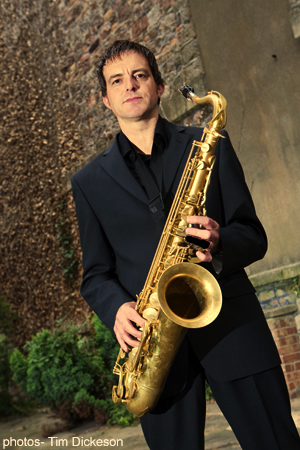 Ben Waghorn started playing in local jazz bands in his home town of Bristol at the age of fourteen, before joining London based hard bop drummer Tommy Chase in 1989. Ben was also a member of NYJO between 1991 and 1995, touring and recording a number of albums during this period. Ben has a busy recording career playing for TV, Film and radio, and has recorded or performed with musicians and bands such as Kasabian, Portishead, Goldfrapp, Kasabian, John Matthius, Sonia, Sinita and Luke Goss. Theatre Work in London's West End includes 'West Side Story', 'Fosse' and 'Chicago'.

Ben is an Edition Records artist and is featured heavily with the Dave Stapleton Quartet on the album 'The House always wins', which was released to critical acclaim in 2007. A new album has just been recorded for release in early 2010. Ben's Quartet album is also due for release in the same year.

He has been involved in a range of projects with pianist and composer Keith Tippett, including the ensemble 'Tapestry', a piece written by Keith for two saxophone quartets and the BBC singers, the Quartet 'Work in Progress' and The Keith Tippett Octet. Ben has toured and recorded with latin jazz group 'Sirius B' and been involved in many productions at Bristol's Old Vic Theatre. He is also currently performing with the Dave Stapleton Trio and Duo, Andy Hague Quintet and Big Band, Resonation Big Band, Jim Blomfield's band Septimbre, and Pedalmania with Hammond Organist John Paul Gard –a new album to be released very soon. He has played alongside John Critchenson, John Etheridge, Damon Brown, Andy Sheppard, Gilad Atzmon and Steve Waterman and has played at many Jazz Festivals nationally and Internationally.
About the System'54 Superior Class Power Bell R in Pure brass:
"These instruments have everything you want from a saxophone. Beautifully made from high quality materials, and with a sound that is second to none, at a fraction of the price of comparable models. It has a full tonal range, bright if you need it, but also capable of the darkness and soul you'd expect from a vintage Mark 6. I work in a wide variety of situations and need a horn that is both flexible and expressive, and this really does it ....
Brilliant"
These instruments have everything you want from a saxophone