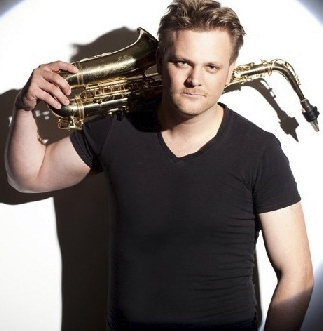 Born in Numansdorp (1984, NL) Pepijn is the youngest of three sons. Growing up with Otis Redding, Candy Dulfer, Maceo Parker, old soul and R&B, Pepijn always tapped on every surface to the beat he listened to. On the table, on the forehead of his grandfather, on the cats, it really didn't matter to him. As he wasn't a great student in school, and didn't have many friends Pepijn started to turn more and more to music.
Meanwhile his brother started playing saxophone, which really fascinates little Pepijn. So finally, at the age of six Pepijn was old enough to discover the Saxophone on his own. His father bought an old Yamaha saxophone home to let Pepijn get the feeling of it. He became a fanatic and took lessons with world famous Bass Clarinet/ Saxophone teacher 'Henri Bok'
Along the years Pepijn's interest in the instrument grew, and he joined a few bands and philharmonic orchestra's. As he wasn't very good in studying the notes, he smuggled during trainingsessions, which taught him how to improvice.
By the age of 15 the urge to be able to play freely and in own style grew enormously, Pepijn started to play on easy jazz music in public places and practiced for the first time in years at home, and… for the first time he liked it.
At the age of 16 he met a singer, whom he kept on working with, at weddings, companyfests and occasionally theatres for nearly 10 years.
In 2005 at the age of twentyone he started to work with 'Swinging.nl', one of the lagerst online artist agencies in the Netherlands. This really pushed his career in the right direction. In 2007 he started 'I-Sax' together with this agency. From the beginning it promised to become a big success. Even though it wasn't easy in the beginning Swinging.nl kept faith in him, and gave Pepijn the right advice he needed.
In 2008 Pepijn started to work with real House Dj's around the Netherlands. "I really had to learn everything all over again" he says. "To play house music, you really need to learn the language". And so he did, and still does.


Music is vibration which runs the heart of enjoyment
website