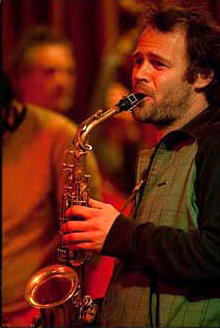 I was born in 75' in Belgium.
My mother chose the saxophone for me when I was nine. Always wanted to play guitar! Bought one two years ago and I still play it really bad! Dedju touch ... was er echt van overtuigd dat het vanzelf ging gaan, dat gitaar mijn roeping was, dat ik daar voor geboren was, dat ik de nieuwe .... swat ...
Got thru hi school listening to Frank Zappa. Hated school and loved music! "Watch out where the huskies go, and don't you eat that yellow snow! -FZ"
Around the age of 16, lost my mind and wanted to become musician. Decided to make friends with my instrument and started listening to Sonny Rollins, Charlie Parker, John Coltrane, Dexter Gordon, Cannonball Aderley, Miles Davis, Eric Dolphy, Ornette Coleman, Lester Young, Lee Konitz to name a few.
Met Katrien, my girlfriend (we have two children now!).
Met John Ruocco in conservatory, he was my teacher for five years. Great guy, nice to: "Hmmmm, interesting, you are not as stupid as you look! -JR". He would point his finger to the sky and say: "see the C# over there!" Where ????? And stuff like "Bebop is the best" and "get your ass in the practice room!!!!!". I guess he was very right at that particular moment in my life! Really liked him!
Still in conservatory met Teun Verbuggen, played and plays in all my bands until today!
Made a couple of jazzzzzzz records that really sold out in a WEEK lady's and gentleman .... (my cave is still filled with boxes). I have met some very nice musicians in this period like Gulli Gudmundsson, Jozef Dumoulin, Magic Malik, Chris Weeda ...
Got a son named Loewie
Started doing ridiculous stuff like singing in my band The Demons of Shame! The musicians in this band are all a perfect mix between complete nerds and utterly, really extremely, plane normal but very accomplished ... WEIRDO'S. Let's give these people names: Pierre Vervloesem, Peter Vandenberghe, Gil Mortio and Teun Verburggen. Give them a hand lady's and gentleman for this are the kind of people we need most in these confusing and dark ages of our planet!
Got a daughter named Lucie
Got famous and very very rich .... oeps ... I am not supposed to tell you this ... YET!!!!!!!
Watch out where the huskies go, and don't you eat that yellow snow!