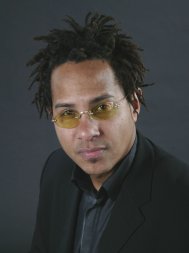 Leandro Saint-Hill Montejo was born in Camagüey, Cuba. He started taking violin lessons with his father Marcelo Saint-Hill Sweeney at age seven. Four years later Mario Lombida introduced him to the saxophone and paved the way for Leandro's career in music. He moved on to study at the José White Music School and meets Alfredo Thompson, who would soon become his mentor and a source for inspiration.
After graduating, the artist started teaching at the music conservatory in Las Tunas and later moved to Havana, where he was able to play alongside renowned acts such as Beatriz M., Carlos Maza Quintet and El Médico de la Salsa. In 1994 he moved to Hamburg, where his unique style and funky sound quickly made him one of the most acclaimed sax-players in the Latin-Funk scene in Europe.
In the following years Leandro partook in many important projects. Not only did he write the soundtrack for the road-movie "Kubanische Träume" (Cuban Dreams) & `Kuba das Mafiaparadies`, but was also nominated for a Grammy alongside Omar Sosa. Furthermore he played with  G. Rubalcaba, Mercado Negro, J. Barreto, Patrice,Willy Chirino, and many others, be it in the studio or be it on stage. Apart from his band (Saint-Hill Colectivo), the sax-player also works as a music teacher and partakes in other renowned projects such as Cubanisimo and Tony M. & The Cuban Power.