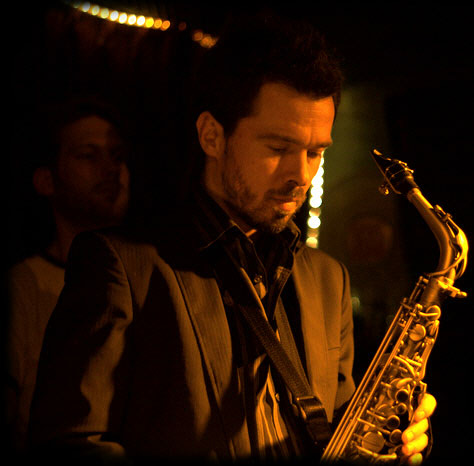 Catalin Milea is one of the most creative and active Romanian saxophonists and jazz exponents of the young generation. Born in Bucharest, Romania into a family of music lovers, if not musicians, his education was not a musical one, although he grew up having a special feeling for jazz music. Around the age of 18 he was working as a driver and sometimes as a security agent during the night in order to pay his music lessons and to buy his first saxophone. During this period he had a decisive encounter that directed him to his vocation: the music of John Coltrane.
 He graduated from the Bucharest Music University and continued his studies at the Prins Claus Conservatoire (the Netherlands) and Long Island University (New York). He is a winner of various competitions. Since year 2000 He performed at music festivals in Romania, Portugal, Czech Republic, The Netherlands, and has toured Italy, Switzerland, Germany, Austria, having recordings/concerts with various artists.
 During his studies at the Prins Claus Conservatory in Groningen, he formed the group "Re-Bop Unit" and in December 2007 they released their first album as a result of winning the "Artistry of Dick Oatts and Young Musicians" jazz competition. In 2008 -2009 he performed with the same group at the "Dutch Jazz Day" and "The Hague Jazz Festival" and toured Romania in a marathon called "JAZZ IMMIGRATION". He performed with the "European Youth Jazz Orchestra" led by Peter Herbolzheimer.
Recently awarded the prestigious Huygens Beurs (Dutch government scholarship) for 2009/11 and has also been supported by the Makarov Foundation, the saxophonist has recorded one album – "Re-Bop Unit featuring Dick Oatts" having as guest one of the most acclaimed musicians from New York, Dick Oatts.
 In 2010 he toured with his new trio project "Synaesthetik", having Owen Hart Jr. on drums and Sean Fasciani on doublebass; the project was selected for the semi-finals of the Dutch Jazz Competition 2010. He also performed as a guest with Camerata Ardesko in Wild Country, in a serie of concerts in the Netherlands, in the Concertgebow Amsterdam, and Grachten Festival Amsterdam.
 The list of the musicians he performed with includes Carlo de Rosa, Anthony Pinciotti, Dick Oatts, Sam Newsome, Mark Gross, Alex Sipiagin, Don Braden, John Engels, Joris Teepe, Kurt Weiss, Eldad Tarmu, Tom Smith and others.